The Biography of Pecorino The Dog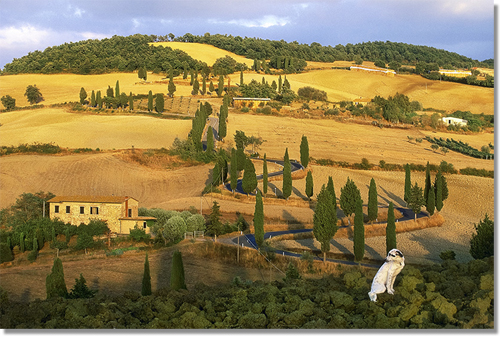 Pecorino was discovered 15 March, 1998 in a hole under a concrete base of an Italian farmhouse. He had a very protective upbringing by his mother, Lady and his two older brothers, Levi and Luigi. He was the smallest in a litter of five pups and was adopted by the photographer Toni Anzenberger, because another owner could not be found for him. Pecorino was a quiet, restrained and yet very social dog. He had a huge fear of thunderstorms, never had a large appetite and, strangely for a dog, prefered a vegetarian diet. He perceived everyone that he met to be good natured and virtually converted all dog haters to dog lovers.

Because of his descent, it is difficult to tell what breed his forefathers were. His black ´Dalmation´ spots seemed more like a freak of nature than the tell tale sign of that popular breed. One thing is for sure...his mother was Lady, a Maremma Sheepdog mix and his father was Filippo a Labrador mix, not Charlie Chaplin, even though his walk unwillingly imitated that of the famous actor. His favourite pastime was begging to be patted in the way which is very reminiscent of the way a cat behaves when wanting to be patted.

When Pecorino was 6 months old, his mother was found poisoned and his father disappeared under mysterious circumstances. This was the reason that Toni Anzenberger decided to take him along on all of his photography travels. Since that one day in Tuscany where Pecorino accidentally ran into one of Toni´s photo shots, the photographer decided to continue to photograph him professionally as he realised that Pecorino brought a particular life to the photos. This resulted in the many travels that followed because of Pecorino and his star quality.

He has never been to a Dog Training School, but yet could sit still up to 10 seconds in every position and expected only pats instead of ´Goodies´ as payment for his modelling jobs.

The pictures and photo-reportages about him have been so well recieved and have been picked up by many famous international magazines and newspapers such as Reader's Digest, Smithsonian, Die Zeit, Amica, Freundin, Bild Zeitung, Kronen Zeitung, La Repubblica, Gente, El Pais, VSD, The Independent, Geo, National Geographic, etc. His life and profession have also appeared on TV, at photo exhibitions and book presentations. In addition to many other publications, 12 books and 13 calendars have also been published exclusively with his pictures.

The new book from Pecorino, ´Pecorino and the Pilgrims' Way - A dog takes on St. Francis Way´ doesn´t only report about Pecorino´s pilgrimage, but also writes a lot about his life.

Pecorino, together with the Pointercross bitch Jessy, had eight children.

Pecorino passed away peacefully in Toni`s arms on the 11th of September 2012.